Thursday, April 18th saw the Hatebreed 25th Anniversary Tour roll through Silver Spring, MD. In tow was Fit for An Autopsy, Cro-Mags, Terror, and Obituary. In addition to the headliner's oft-misunderstood moniker, it was essentially a fest comprised of bands whose shirts I wouldn't wear to the airport (Dying Fetus would have been a nice touch!). As many of us are far more accustomed to someone at the door with a Sharpie and stack of singles, the "like clockwork" operation at the Filmore Silver Spring was an adjustment. Stringent rules and four feet of barricade aside, the staff and security were actually pretty dope and mercifully devoid of boneheads.
As promised, the exact stroke of 6:20 saw the silence broken in timely fashion with the arrival of Fit For An Autopsy. I'm loathe to use the term "deathcore," but FFAA brought a crushing low-end groove that inadvertently flirted with the brown note. I was heretofore unfamiliar with the band, save engineer du-jour Will Putney, but their gravity blast heaviness paired well with their death metal leanings and hardcore presentation. Sufficiently heavy enough to open christen the night's pit, closer "Black Mammoth" comes highly recommended.
The old heads began to stir and stretch accordingly, as the Cro-Mags were next in line. The impossibly "energetic for any age" John Joseph led the charge with a set that understandably leaned heavily on The Age of Quarrel. As I'm far too concerned about my future well-being to comment on the myriad iterations of the Cro-Mags, this bunch's take on songs from 30 plus years ago was shockingly ferocious. The Plant-based and PMA approved Ironman Joseph gave his possessed performance best, touring through the Bad Brains "Right Brigade" up to closer "Hard Times." Peppering his limited between song banter with "back in the day" isms, JJ still brings a fire often missing from bands half his age. Decades after they were penned, some of the best songs in the hXc canon still resonate with a chilling intensity.
What needs to be said about the mighty Terror that hasn't been already? Lifers, Keepers of the Faith, … by any name they're one of the greatest and most dependable live acts in the history of hardcore. Playing both to their strengths as well as the crowd, they manage to cross genre barrier borders in much the same way the headliners did a half decade prior. Vogel and company have clearly cracked the code of engaging new fans and jammed between the classic bookends of "Lowest of the Low" and "Keepers of the Faith" they showcased their mastery of both the metallic and more melodic ends of their discography.
Despite the glaring lack of stagedives, a time honored Terror tradition, the road proven hardcore troubadours still managed to invoke a frenzy befitting of its' inverse, bodies catapulting into and over the barricade. As always, it was a blast with the Underdogs themselves and a reminder that I slept-on Total Retaliation, the 2018 LP for which they're currently campaigning.
Direct supporters Obituary conjured the horns and beckoned the gathering of camo-sporting hordes. The Tampa-based death metallers Brothers Tardy and company manned the stage of dense smoke machine haze, their enormous backdrop a battle flag. Their scythe-sharp logo acts not only as their crest, but a marking of their long held territory as metal that we all dig. Having long earned their reputation for top-notch USDM, they also flaunted the groove that's long hitched their wagon to the hXc scene. There recent run has seen them lose none of their Slowly We Rot form and again, the old heads show us once again how it's done.
Clearly, John Tardy sips from the same fetid fountain as Barney Greenway and Tomas Lindberg, his mid-level shrieking growl is as feral as ever. If anything, age has only further sharpened his grizzly instrument. Awash in a sea of chug and buried beneath a shroud of waist-length hair, Obituary brought an air of metallic royalty to the event that felt like a reclamation of Carcass-sized proportions. They closed with, duh, that slow and rotten aforementioned classic.
Hatebreed is Hatebreed. Born of willpower, desire, and a willingness to tour seemingly without end has landed the Connecticut crew in rarified air. As likely to play with Metallica as they are Madball, their importance outside of hXc can't be overstated. A lifetime ago, their alignment with Slipknot and their ilk may have drawn the side eye from diehards. While last night's set wasn't drawing heavily from Satisfaction Is the Death of Desire, I can't think of a band that draws fans from literally every scene of extreme music.
As jovial a maniac as you're ever likely to see, Jasta has clearly played to bigger rooms and "rock"-sized outdoor crowds. His ability to engage with individual members of an audience is frankly unparalleled. For every person who's ever claimed they left hXc long ago, I'd venture to say it's the opposite. One listen to their set and the uninitiated would unlikely be able to time stamp their metallic core. They're clearly a juggernaut and deliver their beatings with a joyous and celebratory precision. Pulling highlights from career high watermark Perseverance (don't at me… the production is better), The Rise of Brutality, and the oft-overlooked Hatebreed, they managed a scathing rendition of "Puritan" to sate their day one tribe. Hatebreed will always mean the world to me and, apparently, to countless others. If you wanna see them fail, you won't get your chance… they killed it, per usual.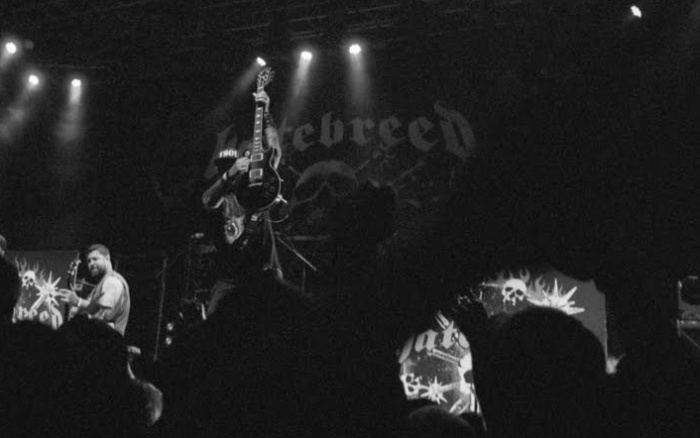 Hatebreed 25th Anniversary Tour (second leg) dates w/ Obituary, Madball, Prong, Skeletal Remains:
5/7 — Fort Wayne, IN — Clyde Theatre
5/8 — Cleveland, OH — Agora Theatre
5/9 — Milwaukee, WI — The Rave
5/10 — Grand Rapids, MI — The Intersection
5/11 — Des Moines, IA — Wooly's
5/12 — Minneapolis, MN — Skyway Theatre
5/14 — Omaha, NE — Sokol Auditorium
5/15 — Denver, CO — Ogden Theatre

w/ Obituary, Agnostic Front, Prong, Skeletal Remains:
5/17 — Portland, OR —Crystal Ballroom
5/18 — Seattle, WA — Showbox SODO
5/20 — Sacramento, CA — Ace of Spades
5/21 — Las Vegas, NV— House of Blues
5/22 — Tempe, AZ —The Marquee
5/24 — San Antonio, TX — Vibes Event Center
5/25 — Pryor, OK—Rocklahoma%
5/26 — Dallas, TX— Gas Monkey Live!
%Festival Date; Hatebreed Only
***
If you're shopping for vinyl, CD, and cassette hardcore titles, head to No Echo's partner store, Reverb LP, to see what they have available. Every purchase you make helps No Echo with site costs.
Tagged: cro-mags, fit for an autopsy, hatebreed, obituary, terror