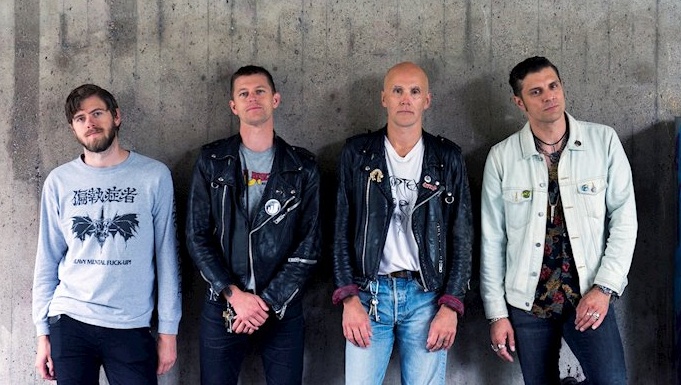 Though they're based in Sweden's capital city of Stockholm, the members of Exil trace their musical histories back to the famed hardcore scene of Umeå. Comprised of musicians who have also played in such bands as DS-13, Leper, and Axis of Despair, the quartet brings forth a no-bullshit style of hardcore punk that is as catchy as it is pissed off.
Exil was getting its shit together when the cursed pandemic fell upon us, but instead of complaining, they got busy writing and recording. The result is Warning, a certified ripper of a debut album that I know most of No Echo's readership will be all over.
To help introduce them, we're premering "The History of Cleanliness/Idiot Face," 2 songs sharing the same track on the forthcoming record. It's certainly a great showcase of Exil's sonic approach.
"[Guitarist] Kristofer had this mean, monotone neanderthal riff, almost kraut like, that he kept playing over and over again," bassist 138 explains the story behind "The Story of Cleanliness" to No Echo. "We kept it like it is: stupid cave man drums, stupid cave man bass, and a bit of stupid cave man guitar with some very smart Crass anarcho punk shouting over it. Voilá!"
Yeah, we can dig that, Mr. 138:
"'The History of Cleanliness,' is about the history of Sarin gas," Exil vocalist TB tells No Echo. "Before being deployed as a means to kill humans it was used as a pesticide, developed in Nazi Germany. Beyond the specifics of that history, I guess the song wants to express something about the modern will to dominate nature and create order, and how the means to do so tend to be used to dominate and destroy human beings.
Bassist 138 sums up "Idiot Face" perfectly:

"It's just straight-up classic hardcore punk, no frills just kills. Kristofer had one riff, I had another, TB yells the title over the chorus. Whoomp there it is, the moshing begins."
Recorded by Kenko (Meanwhile, No Security), and featuring cover art by Joe Boyd-Brent (Humant Blod, Subversive Rite), Warning will be out on July 23rd via Armageddon Label.
***
Help Support What No Echo Does via Patreon:
***
Tagged: exil