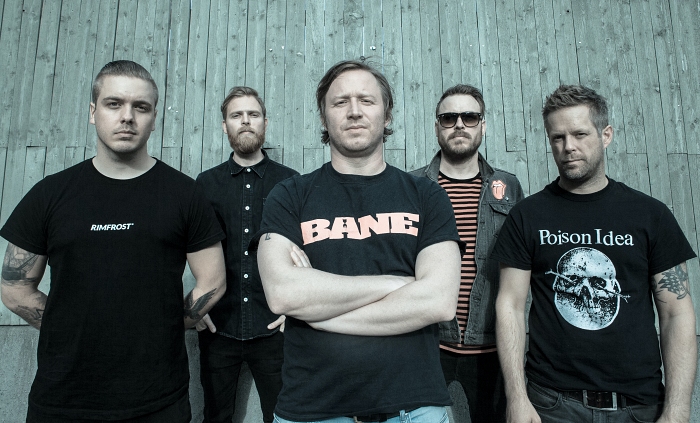 Exploding Head Syndrome is a band from Oslo, Norway we'd like to welcome to the (digital) pages of No Echo for the first time. "Eirik (vocals) and I used to be in a band together back in the '90s, and found out that we both happened to be living in the same city once again," guitarist Morten told us about the group's formation. "We decided—in a drunken moment—that it would be a great idea to start a band at the age of 30 [laughs].
"A few months later, Exploding Head Syndrome got together for our first rehearsal. Since we have gone on to release three EPs and two LPs, and toured Norway and Europe playing festivals like Punk Rock Holiday in Slovenia and Exit Festival in Serbia."
Morten said this about the Exploding Head Syndrome sound: "We describe our music as hardcore with a mix of punk and rock. We all grew up with the '90s punk revival, but we also loved hardcore. We knew we wanted to do hardcore with a bit of skatepunk/punk rock and so we figured why not mix both.
"A year before the band got together, Gallows from the UK released Grey Britain. This was a huge inspiration for us when we first started out. We also love bands like Comeback Kid and Bane. This set our sound which we would develop from."
Exploding Head Syndrome's next album, Victim, will be out in late February, but the band has released a music video for single "Beautiful Day" to what the appetite:
"Victims was a result of the COVID pandemic, like so many other bands. We had released an EP back in 2019, and were going to spend 2020 to celebrate our 10-year anniversary as a band. That didnt happen, so after about six months of doing absolutely nothing, we decided we should spend our time making new music.
"We spent the better part of 2020 making demos, and 2021 to record. We decided that we would record everything ourselves, as we have a studio in our rehearsal space. As we are not so structured, this process would take about six months, on and off. We finished recording in June 2021, and we sent the tracks to our mixing engineer in Italy. We have worked with Jonathan Mazzeo at The Grid Europe since 2016 and he knows us and what we want so there was no doubt about who was going to mix our new album. He's great at what he's doing."
Norway's black metal pedigree is known across the globe, but what else is going on in Norge at the moment? "The underground scene in Norway is alive and well," Mortet proudly exclaimed. "A lot of great bands, both newcomers and older ones. It's a great and inclusive community where everybody is welcome as long as they are not fucking idiots and fascits. PMA all the way.
"You should check out bands like Pappasaft, Anti-Lam Front, Combos, Murder Maids, Naga Siren, The Mansters, TwoMinutesHate, Hammock, Aktiv Dödshjelp. I could go on forever. There are a lot of great bands, too many to mention.
***
Victim will be out on February 24th through Exploding Records and distributed in the US by Savage Magic Records, in the UK by Bit Part Records, and in Norway by Fücking North Pole Records.
***
Help Support What No Echo Does via Patreon:
***
Tagged: exploding head syndrome