Body Farm has been producing (get it?) politically-charged ripping hardcore since first appearing via their 2019 demo. The quartet has released a self-titled EP, a split 7-inch with fellow Ohians SlutBomb, and a flexi single, plus appearances on the Sincere Flattery Vol. 1 compilation and the soundtrack to the film, They/Them/Us.
Today, No Echo is excited to help spread the word about Living Hell, Body Farm's forthcoming 12-inch EP, which we're streaming early below.
"The lyrics I write are inspired by personal and societal moments in time," Body Farm vocalist Ocean told me via email.
"A lot of what makes me angry is the fact we exist in a society under capitalism, patriarchy, and White Supremacy. The issues within those systems could sometimes be easily solved if the people in charge actually gave a shit about us. Reminding myself and others to watch what's happening seems natural considering rebellion is important to punk."
Ocean continued: "The destruction of White Supremacy would lead to a better future for everyone under a revolutionary cause. We mean it when we say it's to blame for harms so many people face. It doesn't sit right with me to just observe and not say anything to question and push back against what's continuing to be a problem. People deserve to thrive instead of struggle because in reality there are plenty of resources to go around."
Body Farm supports and works with NARAL of Greater Ohio, Planned Parenthood of Greater Ohio, Sex Militant, and the Black, Queer and Intersectional Collective.
Since they're so heavily involved with local causes and have made it a point to get the word about them, does Ocean feel that the current hardcore/punk scene should be more engaged in that regard?
"Volunteerism and involvement in local activist spaces has always been an important part of DIY culture. We ran into a lot of our friends during the summer of 2020 at various protests. If a band comes off as performative its because of their peers seeing their true colors in real life spaces."
Living Hell will hit all platforms on March 10th.
Order links:
So This is Progress Records (black vinyl, Grimace purple vinyl, cassette)
Blind Rage Records (blue jay vinyl)
Dead Tank Records (blood red vinyl)
Body Farm have also teamed up with Dead Tank Records to collaborate on a fundraiser shirt for the Peoples Project in Ukraine. Seen below, $10 for each shirt sold this week is donated. Support if you can here.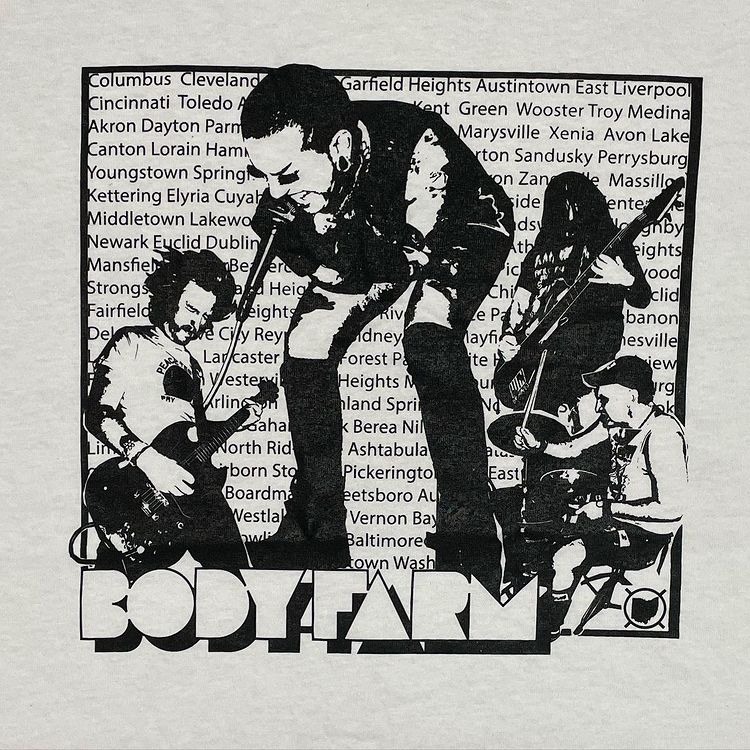 Upcoming Body Farm shows:
3/1 – Pelican Pub – Slidell, LA – Coup De Gras 3 w/ Warganization, Logan Marie Glitterbomb, Auntie Bobo
3/2 – The Bark – Tallahassee, FL w/ No Face, Wrecking Order
3/3 – Milestone – Charlotte, NC w/ Tossed Aside +1
3/4 – HELL DIY Space – Washington DC w/ Fred Ash, Tossed Aside, YAP
3/5 – Mill Hill Basement – Trenton, NJ w/ Tossed Aside, Kirby Kiss, Hundreds of Au
3/6 – Focal – Pawtucket, RI w/ Escuela Grind, Churchburn
3/7 – Sovereign – Brooklyn, NY w/ Dog Breath, MAAFA Kartel
3/9 – Century – Philadelphia, PA w/ Blasphemy, Charcuterie, Warring Monk
3/10 – Beyond Damaged/Rock Room – Pittsburgh, PA w/ Illiterates
3/11 – The Nest – Cincinnati, OH w/ Butchers Dog, Primitive Impulse, Sewage Grinder
Body Farm on social media: Facebook | Twitter | Instagram
***
Help Support What No Echo Does via Patreon:
***
Tagged: body farm