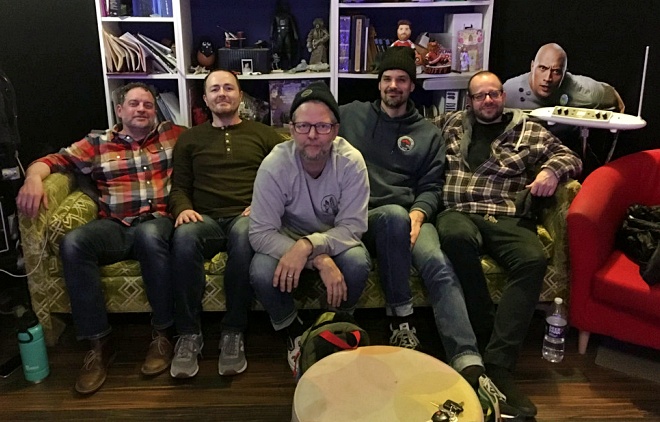 "What if Black Flag, Jesus Lizard, Rites of Spring, Shellac and early Soundgarden, and Nirvana got into a bar fight." That's a question pondered by someone in relation to Bitter Branches, a new band featuring some veterans of the hardcore punk scene.
The lineup consists of Tim Singer (Deadguy, Kiss It Goodbye, No Escape), Jeff Tirabassi (Walleye), Matt Ryan (Calvary), Kevin Sommerville (Lighten Up!), and Brian Kantorek (Go! for the Throat, The Curse), so expecations are high, but I'm glad to tell you that this is one of those cases where experience trumps all.
Bitter Branches reached out to No Echo to help premiere a track called "Oil of Snakes," and as you'll hear for yourself below, Tim's vocals are every bit as vicious as they were back in the '90s:
How sick was that?
"Oil of Snakes" will be included on Bitter Branches' forthcoming debut EP, This May Hurt a Bit. The record was tracked over the course of 2 days in March with Mike Bardzik at Noisy Little Critter Studio in Downingtown, PA. The guys in Bitter Branches see their sound as "the perfect backdrop for increasingly chaotic national and global angst that parallels the same anxiety and uncertainty of the times of their youth.
"Everything we screamed about as punk kids has essentially come to pass. So maybe there's still something left to say..."
Stay tuned for a release date on the This May Hurt a Bit EP.
***
Donate a few bucks to help with No Echo's operating costs:
Tagged: bitter branches, deadguy, kiss it goodbye, walleye