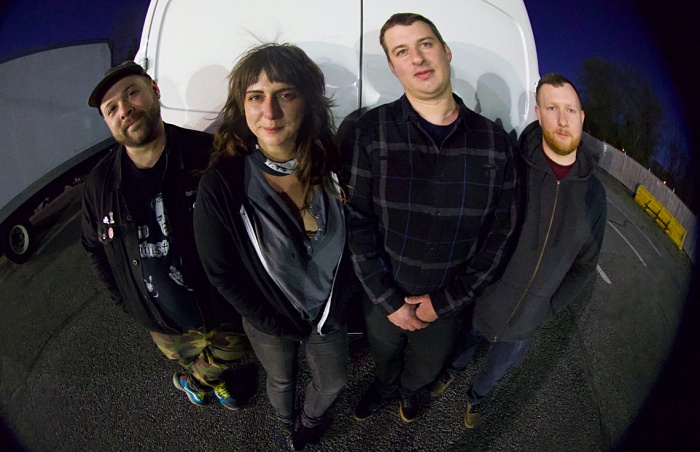 "For those unfamiliar, I'd call our band East Coast blue-collar melodic hardcore punk from Albany, NY since 2000 for fans of bands like AVAIL and Strike Anywhere," After the Fall vocalist/guitarist Mike Moak tells No Echo.
The last time we checked in with After the Fall was in late 2019 around the time of their split EP with Newfoundland outfit Brutal Youth.
This time out, the New Yorkers are gearing up for the release of a 10-track LP called Isolation. Like they have since 2005, the band tracked the record at The Blasting Room in Colorado, working with producer Andrew Berlin. The vinyl version of the album will feature the entirety of Isolation on Side A, and After the Fall's 2020 release, Resignation, on the B side, which has never pressed on CD or wax.
Check out the new music video After the Fall have put together for "Firewood," the fourth track from Isolation, below:
"'Firewood' is a love song," explains Mr. Moak. "I know it may sound and seem corny but I wrote it on Valentine's Day 2021. So, basically the lyrics and vibe come from me having spent my life putting After the Fall and music first before love and partnership… and COVID times and being forced to not tour really made me think about that greener grass and conventional partnership and or parenthood life I haven't been living for a few years now.
"That innocence of falling for someone and being smitten…and this time around feeling and saying I would quit my ways and set my fucking guitar on fire to keep you warm be beside and behind you always. That's what 'Firewood' is all about, it's a vibe."
Isolation will begin shipping on January 7th via Say-10 Records and Skateboards (North America), SBÄM (UK/Europe), and Bandcamp (digital).
Hit this link to see all of After the Fall's social media links, merch, and shows coming up!
***
Help Support What No Echo Does via Patreon:
***
Tagged: after the fall