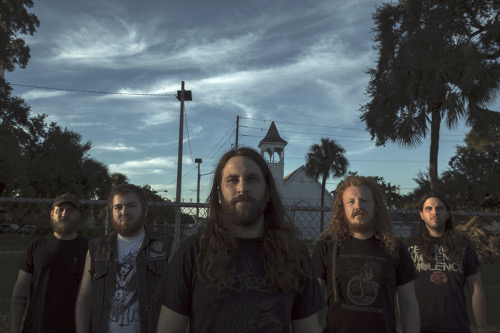 Hailing from St. Petersburg, FL, Set and Setting write and perform instrumental music that falls somewhere between the metallic crush of Cult of Luna and the atmospheric glory of Mono. The group has previously toured with the likes of Inter Arma and Kayo Dot, and will be spending much of 2017 out on the road. On January 27, Set and Setting will be self-releasing Reflectionless, their third studio album.
In celebration of their new album, Set and Setting guitarist Shane Handal and drummer Mark Etherington have compiled a list of the Top 5 Double-Drummer Bands of All Time. The dudes know what they're talking about, since Set and Setting also features two trap-kit abusers.
1. The Melvins
Shane Handal: The truest of dudes will mention the Melvins after we play a set. The band is legendary, untouchable. One drummer or two, who cares? I'm just glad they are usable for this list. Listen to any song by them.
2. Cult of Luna
Shane Handal: I saw Cult of Luna about 10 years ago and they were the heaviest band I have ever seen in my life. I don't think they had two drummers then, but I saw them recently with two and they were incredible. Pretty sure the song "The Sacrifice" doesn't have two drummers, but that's the song they opened with the first time I saw them, and it changed my life. Their newer records are great, too.
3. Tortoise
Shane Handal: The two drummers in this band face each other from what I've seen in live videos. It's a pretty fucking cool and unconventional way to play a live set. It's always entertaining when a band will do something different.
4. The Allman Brothers Band
Mark Etherington: What can't be profoundly stated about the subtle yet articulate playing style of Jaimoe Johanson and Butch Trucks drumming in sync together, providing the driving heartbeat of The Allman Brothers Band? Any band with two drummers takes from their book, whether they are aware of it or not.
5. Slipknot
Shane Handal: This is a ridiculous band, but the percussion is undeniably good. I can't name a song by them, but I've watched some of their live videos a few times and it was pretty insane.