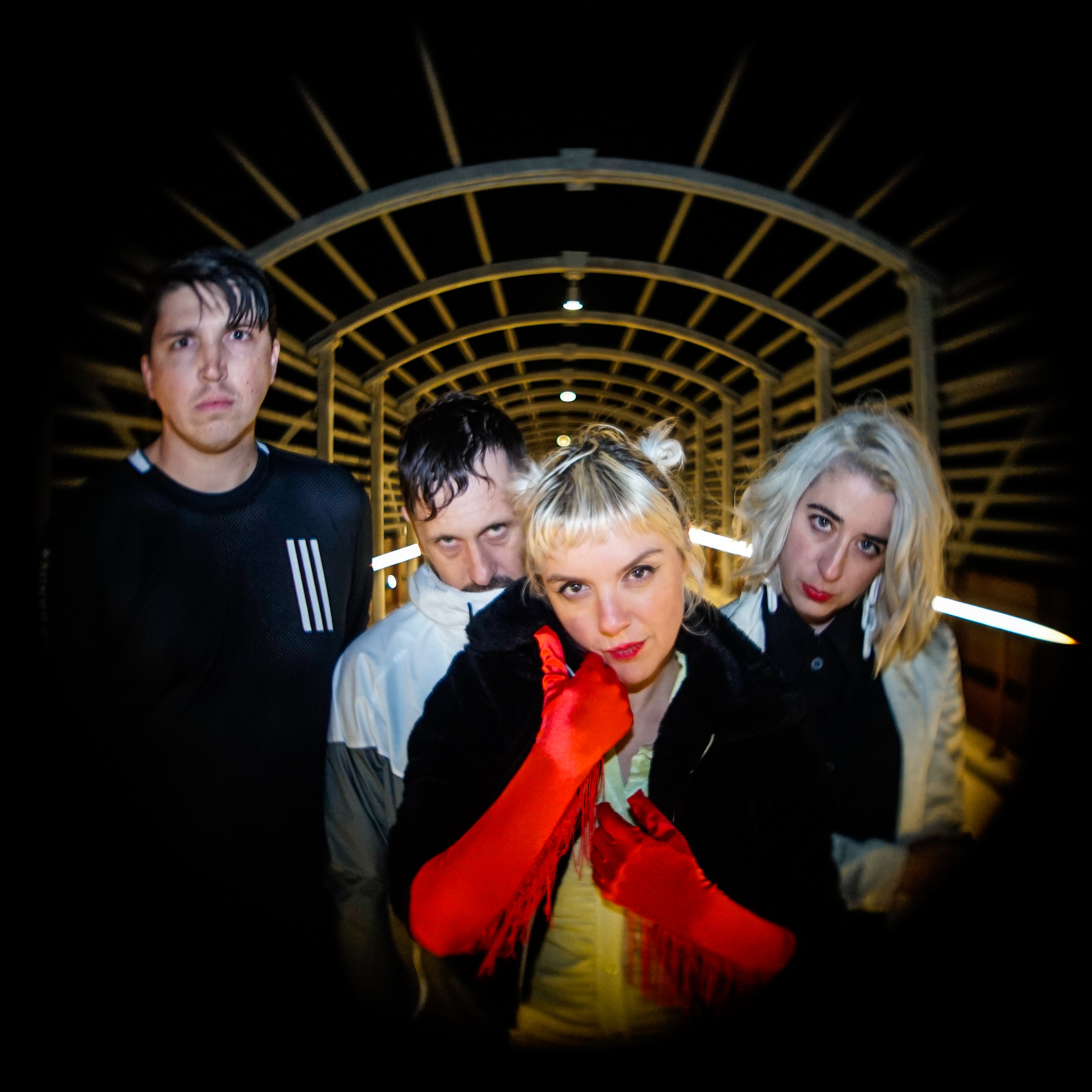 With a sound that goes blown-out hardcore style one second and gothy punk the next, Mugger recently emerged out of the Austin scene with an excellent demo.
The new band is fronted by vocalist Anna Troxell, who many No Echo readers will remember from Philly outfit Creepoid, who's drummer (and Anna's husband) Patrick Troxell, also features in Mugger. "Patrick and I moved to Austin from Philly and we reconnected with Lisa and Daniel (of The Well and Radioactivity/TVs Daniel)," the singer told me via email last week.
"We quickly realized we all wanted to do a project together and the inspiration for Mugger was formed. I didn't start playing music until Patrick and I formed Creepoid but it's always been in the back of my mind that I wanted to start hardcore/punk band.
"Leave it to me to finally become the front person for a hardcore band at 40 years old but here we are."
Though Anna jokes about it, she's not new to the music and its community: "Patrick and I grew up in the Philadelphia hardcore scene of the '90s/early '00s and it's been a minute since we had a chance to do a project that resembled our youth. We draw influence from that sound, as well as the resurgence of hardcore we've seen with the kids."
Now that Mugger has music out and is starting to play shows, Anna is eager to help spread the word to people who might be intimidated to partake in the hardcore scene.
"It's awesome that 2022 hardcore is more representative and inclusive of different types of folks and I really just want to add my voice to that mix. I still think we need to be even more encouraging and to make room for more than the voices of cis white men. I grew up in tough-guy hardcore and I loved being part of that scene at the time, but it's time for something more."
Mugger isn't wasting time on the touring front. They'll be heading out on a Texas run in August with Chemical Fix, Detox, and Mexican Coke. They'll have more dates being announced in the fall.
What else is going down in the Austin? "The local Austin scene is sick, there are lots of new all-ages venues popping up like Sunnys Backyard and Chess Club.
There are a ton of bands thriving all over Texas that we draw inspiration from, like Detox, Heaven, Stunted Youth, Save our Children, Ready Armed System, Acaustix, Strange Joy, Ozone, Mexican Coke, Paranoid, Skourge, and Future Shock just at the tip of the iceberg."
***
Mugger on social media: Instagram | Bandcamp
***
Help Support What No Echo Does via Patreon:
***
Tagged: mugger