Mindz Eye first appeared on No Echo last year via Bruce Hardt-Valenzuela's premiere of their debut EP, True Blue. The Colorado quintet's groove-driven take on hardcore definitely connected with many of the site's readers. "At the end of 2018, we were all in different music projects but were mutual friends through the Colorado hardcore scene," drummer Matt Meehan tells No Echo about their formation.
"We all were at a point where we wanted to do something fresh and fun as opposed to heavy, which primarily dominated the sound scape in Colorado. A few of us, Kyle Petty playing guitar, who recruited River Carrasco for second guitar, and myself, had jammed and written a couple of songs. Matt brought in local venue sound engineer and bassist extraordinaire Brandon Poe, then after trial and error with some vocalists, we found the right fit with Bryce Hudgin giving us the kick we needed on vocals."
Today, No Echo is announcing that Mindz Eye have signed on with Irish Voodoo Records (Pure Heel, Concrete). The Southern California-based label will be releasing the aforementioned True Blue EP on vinyl for the first time.
To celebrate the signing, Mindz Eye have teamed up with director Errick Easterday for a music video to their track, "Brain Wavez." The colorful and lively clip is breath of fresh air in the usual "band playing in a warehouse" thing we see in the hardcore world:
Matt talks about Mindz Eye's stylistic direction: "That word hardcore has so many meanings to so many people, and it's extremely important to us all as.
"At the end of the day, we wanted to combine lots of grooviness with fun upbeat riffs, raw classic hardcore punk energy, experimental dreamy stuff, and maintain mosh parts that we would dance to. At this point, we figure, you either get it or you don't."
No Echo asks Matt about how he feels Mindz Eye has fit into their local scene in Colorado. "To be honest, we didn't really know what to expect when we became established, but we knew we were really pumped on what we had created together. But the outpouring of support was and is still so incredible. Our scene is very close knit, and extremely supportive of each others' projects. We share resources, use each other's artwork, and promote each other like a motherfucker.
"Unfortunately, through COVID, many of the bands active at that time have faded, but we hope to be able to support new bands that have been and will rise from those ashes. Shout out to Slope from Germany, shout to Arm's Reach from Arizona."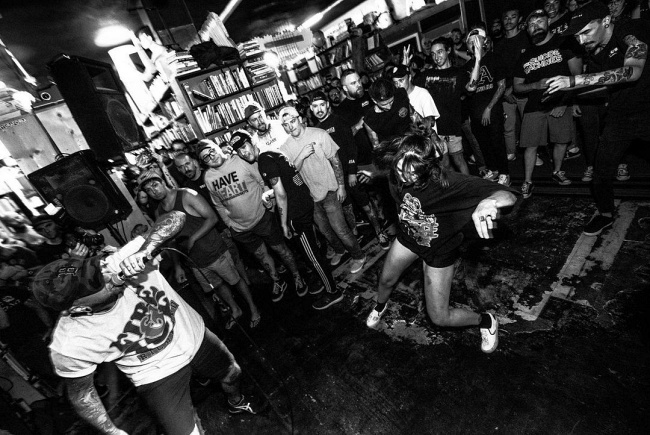 Matt leaves us with some inspiring parting words: "I want to shout out everyone who has shared our art, bought merch or music, sent us kind words, or even just smacked the like button on YouTube. Every sort of validation we get from y'all reinforces the notion that we are creating music that makes people feel things and that's all that we could ask for.
"We are currently scheduled to track LP1 in the winter and are currently writing for that, and we couldn't be more excited.
"One last thing! Support your friends in hardcore. Pay your photographer friends for promos and videos. Pay your graphic artist friends to use their work for merch and artwork. Pay your friends with a studio to track some songs. Share and support the labels, zines, podcasts, and news sources that showcase your stuff."
The True Blue vinyl release is up for pre-order from Irish Voodoo Records starting today.
Mindz Eye on social media: Facebook | Twitter | Instagram
***
Help Support What No Echo Does via Patreon:
***
Tagged: mindz eye