UK hardcore stalwarts Chubby and the Gang's debut LP, Speed Kills, likely didn't portend the subject of this review, but that particular album's title name is as apt a summation anything I could write below.
The world-beating heaviness of Sydney's SPEED dispatches any who dare get in the way. Already a considerable proposition on their 2019 demo and the smattering of dope singles that followed that opening gambit, the band's latest batch is a considerable level up in every conceivable way. SPEED kills, indeed.
Co-released courtesy of Newcastle's Last Ride and Baltimore's Flatspot Records, who're incidentally set to drop a grip of records likely to compose my AOTY list, the band's Gang Called Speed EP is one of the year's finest records… full stop, genres be damned.
Australia's long fertile and diverse hardcore scene is having an extended moment thanks to the likes of Nerve Damage, The Chain, Primitive, World View, Blindside, World of Joy, and No Brainer, among others. You can now find the name SPEED carved permanently into the modern pillars and rightly so.
I've heard the names Merauder, Biohazard, and my hometown legends Trapped Under Ice tossed around as signposts and, while certainly on point, there's a glut of other inspiration going on here. The band likely had the entirety of Madball's discography committed to memory, but there are also both moments of Hatebreed's primitive stomp and the hip-hop lean of modern heavies Gridiron or Pain of Truth.
Mostly, though, SPEED marries the street-ready rumble and pugilistic baiting of NYHC to righteously indignant missives that still somehow manage to celebrate our collective humanity.
The eloquent but no less intimidating lead single "Not That Nice" is an incendiary way to open, with vocalist Jem vacillating between a bellicose bellow and something a bit more frenzied and wild. Inflections are at times surprising and wildly inventive in both cadence and delivery.
Written as a necessary takedown and response to the uptick in hate crimes perpetrated against the Asian community and the perpetual threat of said violence, the lyrics are a stunning, poetic accomplishment paired to a top tier ass-whooping. Sporting a wailing solo near its end, it's as much a pit starter as it is an examination of privilege, identity, and self reflection in an ever-hostile world.
Follow up "Another Toy" is churning, antagonistic hardcore that's impossibly full of crushing breakdowns, lockin' out style grooves, and intentionally spare lyrics. As fearsome as the self-dubbed "gang" is here, the friendship absolutely radiates off this thing. Among other highlights, there's a brief and fleeting two step that mirrors the riffing in enthralling fashion.
Elsewhere, the EP's meat, so to speak, features "Move" and "Big Bite." The former lives in more buoyant terrain, perhaps due to the instant earworm of the main riff. Even when they're leveling you like they do in the final thirty seconds here, there's a memorable quality oft-ignored in hardcore songwriting. The latter, though sharing its namesake with Pop Wig's pop fuzzsters, is a crushing chunk of heavy hardcore that has more in common with Crown of Thornz.
Penultimate track "Every Man For Themself" launches into being with squealing guitar before giving way to a mechanized assault. SPEED attacks not so much with pace, but with an arsenal of adroit sonic tricks. The guitars mimic the urgency of air raid sirens and at one point the cymbals scrape, sounding like Excalibur being unsheathed. Much like they did on their fierce demo, they sport a killer bass sound on this one.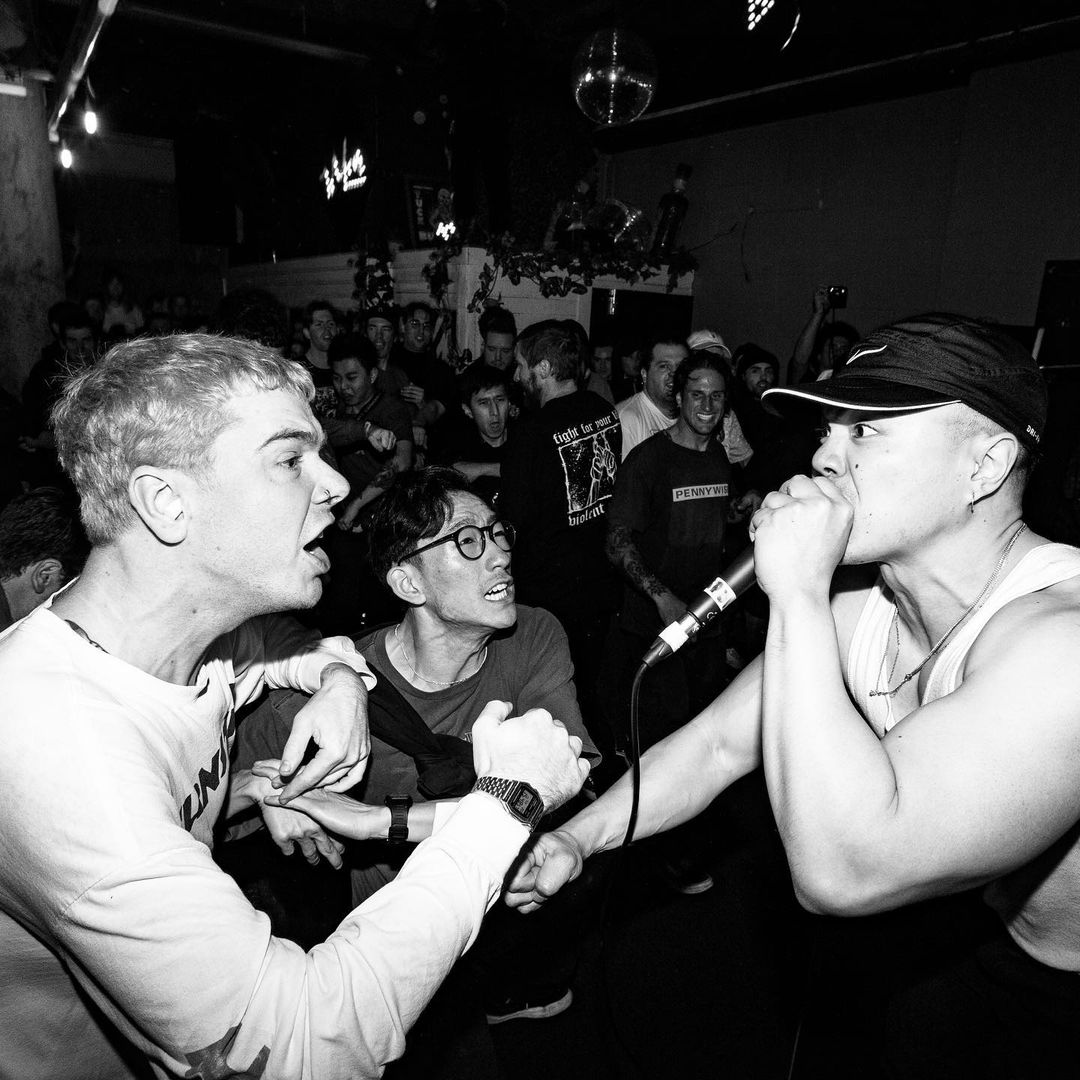 At just North of three minutes, closer "Know Your Foe" is a veritable epic by their standards. In my opinion, it also happens to be the EP's centerpiece. Built upon their most fluid and choppy rhythms, its DNA lies in the expert tradeoff between two step groove and a metallic leads that feels like an instant classic. The drum work is a blend of four on the floor, tasteful cymbal workouts, and incredibly busy runs.
The real highwater mark here, however, are the vocals. The diversity of approach in the span of one song is jaw-dropping. At once their most menacing (peep those backing vocals) and melodic a la Life of Agony, there's an unpredictability to this group that's as yet unmatched in 2022.
Go buy this record and get your gang affiliation on the ground floor, because they're at last slated to decimate stages. SPEED kills.
Get It
Tagged: speed