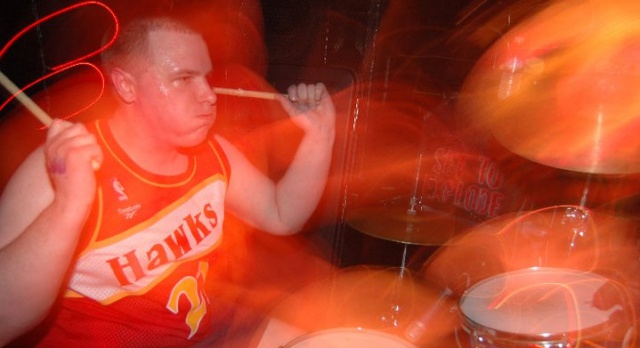 Nick Woj was the first musician I interviewed when this site was launched back in 2014. On the musical tip, Woj has played in such bands as Cold World, Pegasus, and Consolation Prize. He's also an accomplished DJ and producer, and is one of the creative minds behind the clothing imprint Nervous Juvenile.
Knowing how much of a music head he is, I asked him to answer some questions for our Record Collector series.
How long have you been collecting records?
Beyond casually buying records to listen to, about 20 years. I used to juggle between collecting punk and hip-hop, dance, and soul stuff when I used to DJ heavily and make sample-based music, but now that I rarely DJ (and use Serato when I do) or make music, I focus only on collectible punk-related stuff. I really regret selling off my grime and jungle/dream & bass stuff, though!
Where/how do you usually find your records?
When I was in Pennsylvania I could get good originals regularly at Double Decker, but now that I'm in Boston it's pretty slim pickings. My friend is constantly buying and flipping punk stuff, so I'll check out what he has every month or so. Other than that, I save up for a Japan trip once or twice a year. I buy stuff off Discogs some times, but I really prefer to buy records in person.
What is the most you paid for a single album, where/how did you obtain it, and what was it?
$900 for a Misfits single from a friend. Second would be about $700 for a Black Flag Nervous Breakdown OG off Discogs. I don't mind paying top dollar sometimes because I buy stuff pretty infrequently nowadays, so I'll just splurge on a top want every once in a while when I have some extra cash.
What is your most prized record and why?
I don't have anything insane like a Dischord test press or any over $1000 records as of now so I'll say my whole GISM collection. That's a band so fascinating to me that I try to get everything from vinyls and shirts to promo materials and magazine appearances.
Is there anything that frustrates you about the whole record collecting scene?
I can't stand when record stores don't separate their used stuff from their new stuff. Nothing's worse than wading through a big-ass new arrivals section to find that it's mostly $40 bullshit represses sprinkled with dollar bin clunkers. I also can't stand when record shops put anything pricey straight to eBay or Discogs without letting it sit in the shop for a week or so.
YOU KNOW WHAT ELSE GRINDS MY GEARS? When a shop puts their "rare" stuff behind the counter and you have to ask to go through it and there's nothing over $20 in the whole stash.
Which albums are still on your want list that you've had a tough time tracking down through the years?
The coolest record to me is Misfits Cough/Cool. I want one so bad but the price tag is insane nowadays. Other top wants are stuff like Germs Lexicon Devil, Anti Cimex Raped Ass, and the Execute flexi.
***
Follow Nick on Instagram and ask him about obscure NYC hip-hop while you're at it.
Tagged: cold world, doctype html, hip-hop, record collector