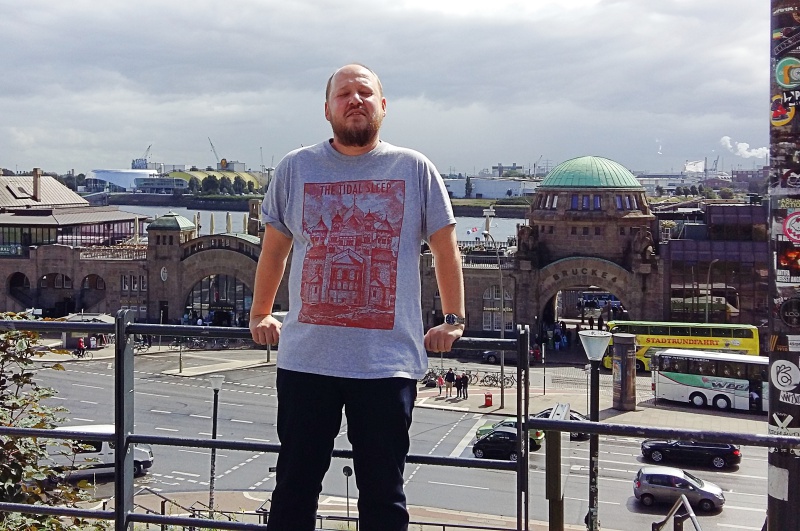 Marcus Kock is business student from a small town in the Ruhr area of Germany. A passionate soccer fan who is devoted to the VfL Bochum club, he can be found hunting for hardcore, German punk, and screamo vinyl. Welcomd Marcus to the Record Collector series.
How long have you been collecting records?
I started at the age of 12, and like people my age, with CDs. My real passion for vinyl records started around 6 years ago.
Where/how do you usually find your records these days?
I order a lot online at places like Greenhell Records, Flight13 Records. But I also buy from small labels like Through Love Records and I Corrupt Records. I also like to visit smaller stores, second hand shops, and flea markets. But I must say, I buy online mostly.
What is the most you paid for a single record, where/how did you obtain it, and what was it?

The most expensive record that I have bought to date was the purple version by of Plagues from the Devil Wears Prada for 45e. It has been a while since I purchased it, but if i remember correctly, I found it on eBay.
If you had to pick one record label you feel had/has the best track record of quality releases, who would that be and what are some key titles you love?
Tough question. There are many labels that put a lot of time, work, and passion into their releases. I like the releases of Coffeebreath and Heartache, a small DIY label from Germany. They've done releases from Banquets, Pentimento, Great Lakes USA, and other great bands.
Of everything in your current collection, what is your most prized record and why?
The most valuable record for me is H2O's Nothing to Prove. My cousin gave it to me at a time when I was not feeling well. When I first heard it, I was not so enthusiastic. With every further hearing, the record got even better. It gave me a lot of strength and introduced me to the hardcore genre. I'm grateful to my cousin that he was there for me at the time and that he opened my eyes to a new music style.
Is there anything that frustrates you about the current record collecting scene?
Nothing surprises me anymore. I could be upset about the rising prices, the high shipping costs from overseas, or that people just buy records to sell them more expensively, but I got used to it.
Which records are still on your want list that you've had a tough time tracking down through the years?
Touché Amoré, TA 2010 7"s Boxset
La Dispute, Vancouver
Die Ärzte, 13 2 x 10"LP
Die Ärzte, Runter Mit Den Spendierhosen, Unsichtbarer!
Spirits, Discontent Translucent Red Fluff Fest Version
***
Follow Marcus on Instagram.
Tagged: record collector