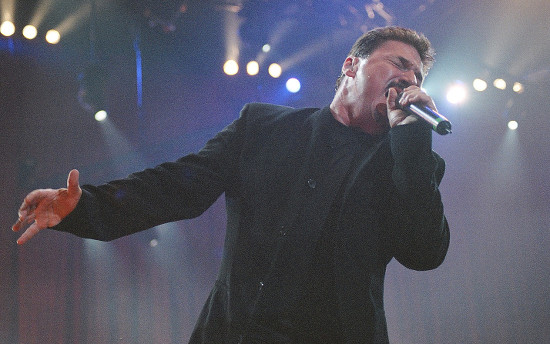 AOR or arena rock, you can take your pick on what handle you want to use, but whatever you call the style isn't as important as how great the combination of soaring vocals and melodic guitar riffs makes you feel. If I had to play a song that best illustrates what AOR is, I would throw on Journey's "Stone in Love." So, if you aren't sure what we're talking about here, just click on that link real quick.
In this style of rock, you live and die by how talented the vocalist is. We previously laid out the Best Female AOR Singers on the site, so here is our list of the 10 Best Male AOR Singers. Before you start complaining, just know that the list isn't in any particular order.
Joe Lynn Turner (Solo, Rainbow, Rising Force, Sunstorm)
Joe Lynn Turner has been recording and touring since the '70s, first gaining huge success as Graham Bonnet's replacement in Rainbow in 1980. The New Jersey-bred vocalist's ready-for-radio style helped the British band strike gold on three studio albums. Turner's 1985 solo album, Rescue You, was produced by Roy Thomas Baker (Queen, Dangerous Toys) and remains one of the decade's most overlooked AOR treasures. The singer's stint in Yngwie Malmsteen's Rising Force might have been a short one, but his performances on Odyssey are among his best. Turner is still touring and releasing great records, including Edge of Tomorrow, the latest album from his Sunstorm project.
Best songs: "Endlessly," "I Surrender," "Street of Dreams," "Dreaming (Tell Me)," "Losing You"
Lars Säfsund (Work of Art, Lionville)
Work of Art would be all over FM radio in the States if it were 1981. Unfortunately for Work of Art, their style of music isn't in vogue in the States, but their three studio albums are masterclasses in AOR. The Swedish power trio crafts some of the tastiest melodic rock tunes this side of Toto, and vocalist Lars Säfsund is a huge key to their sonic success. Listening to a Work of Art song like "The Great Fall," it's clear as day that the 40-year-old frontman knows his way around a vocal hook. Säfsund always takes the tasteful route and complements the keyboard and guitar parts instead of showboating like some of his peers do.
Best songs: "The Rain," "The Great Fall," "How Will I Know?," "Until You Believe," "Maria"
SEE ALSO: Underrated Yacht Rock Songs
Brian Howe (Solo, Bad Company, Ted Nugent)
Starting his major label career in 1984 fronting Ted Nugent's band on the Penetrator album, Brian Howe caught the attention of former Bad Company members Simon Kirke and Mick Ralphs, who were looking to form a new band. After hiring Howe, Atlantic Records pressured the musicians to use the Bad Company name and eventually released their Fame and Fortune album in 1986. The record did decently, but their subsequent three full-lengths would fare better—yielding huge radio hits in America—and presented Bad Company as a full-on AOR band in the tradition of Foreigner and late '80s version of .38 Special. Howe's vocals were the main factor in the success. His gritty yet pop-inflected singing style on both the hard rock ("No Smoke Without a Fire") and the ballads ("If You Needed Somebody") is irresistible stuff. Since parting ways with Bad Company in the '90s, Howe has released several solo albums that also deserve your attention.
Best songs: "No Smoke Without a Fire," "Holy Water," "This Love," "If You Needed Somebody," "What About You"
Lou Gramm (Solo, Foreigner, Shadow King)
There's no way you could pen a Best AOR Vocalist list without including Lou Gramm. Born and raised in upstate New York, the singer helped create the musical blueprint for every melodic rock frontman that followed him. Possessing a singing voice with equal amounts of arena rock power and soul swagger, Gramm has been often imitated but rarely equaled. His two runs with Foreigner gave us so many AOR treasures, but his lone album with Shadow King found him teaming up with Vivian Campbell (Def Leppard, Dio, Whitesnake) and kicking out some top-notch melodic rock. Gramm's solo material is also worth investigating. How this man isn't already in the Rock and Roll Hall of Fame (along with Foreigner) is proof of how much that institution is a fucking racket.
Best songs: "Cold as Ice," "I Want to Know What Love Is," "Urgent," "That Was Yesterday," "Midnight Blue"
SEE ALSO: '80s Movie Soundtrack Songs: Action/Adventure Edition
Bobby Kimball (Toto, Kimball/Jamison)
As you might have already noticed, usually the finest AOR singers are the ones that throw in a bit of rhythm and blues attitude in their delivery. Bobby Kimball has that formula down pat. Best known for his stints in Toto, Kimball's voice has been a classic rock and pop radio mainstay since the late '70s through tracks like "Hold the Line" and "Rosanna." The vocalist's strained relationship with Toto has been well documented throughout the years, but from a fan's standpoint, the biggest issue Kimball had in the band was that he was surrounded by two other great vocalists (keyboardist David Paich and guitarist Steve Lukather)—often leaving him in a background position in the studio. Not taking anything away from his bandmates, but it would have been interesting to see what Kimball would have done with more lead vocal opportunities during his tenures with the group.
Best songs: "Hold the Line," "I'll Supply the Love," "Rosanna," "White Sister," "Gift With a Golden Gun"
Jimi Jamison (Solo, Survivor, Cobra, Kimball/Jamison)
Don't get me wrong, I love me some Dave Bickler, but for my money, the best version of Survivor is the one with Jimi Jamison at center stage. The average rock fan probably doesn't know his name, but there's little doubt they know Jamison's arena-ready vocals on such AOR standards as "Burning Heart" and "High on You." I had the pleasure of chatting with the singer before his passing in 2014, and one of the things that stands out from the conversation was his roots in Memphis, even singing on Stax Records sessions. Listening to his performances on the four studio albums he cut with Survivor, you can hear that influence. I embedded "Man Against the World" above because I think it's Jamison at his best. I asked former Survivor keyboardist Jim Peterik about the song during an interview in 2014: "The one line that came to me while you brought up the song is: 'A brand new day will shine / through the avalanche of time.' Holy shit! Jimi singing that line? Get out of town."
Best songs: "Man Against the World," "High on You," "When Seconds Count," "Is This Love," "The Search is Over"
John Waite (Solo, The Babys, Bad English)
His biggest hit is undoubtedly 1984's "Missing You," but John Waite was already in the hearts of AOR fans by that time via his work with The Babys in the late '70s and early '80s. "Every Time I Think of You" and "Back on My Feet Again" secured solid radio airplay for The Babys during their five studio albums together, thanks largely to Waite's million-dollar voice. The singer also did well as a solo artist before joining Bad English—a band that also featured Neal Schon (Journey, Santana), Jonathan Cain (Journey, The Babys), Deen Castronovo (Journey, Cacophony), and Ricky Philips (The Babys, Styx) within its ranks. More hits followed, but after two albums with the supergroup, Waite decided to go the solo route again.
Best songs: "Change," "Forget Me Not," "Missing You," "If You Ever Get Lonely," "Back on My Feet Again"
SEE ALSO: Journey's Greatest Non-Hits of the '80s
Dennis DeYoung (Solo, Styx)
Dennis DeYoung's name has been trashed by some of his former Styx bandmates throughout the years, but without his signature vocals and creative vision during the band's first decade together, there's little chance the band would have grown to be the AOR gods they eventually became. DeYoung's Broadway-like conceptual and performance approach helped set Styx apart from the rest of the melodic rock pack, and he always looked like he was having the time of his life when he was on stage.
Best songs: "Suite Madame Blue," "Come Sail Away," "Babe," "The Best of Times," "Don't Wait for Heroes"
Brad Delp (Boston, RTZ)
When singers reach to the higher register side of their voice, things often start sounding thinner, but this was never the case with Brad Delp. When the late Boston frontman reached for the high notes, his lines blared through the speakers with the same kind of intensity as the guitars, bass, and drums of whatever song he was performing. Delp's most fruitful collaboration was with Boston guitarist/songwriter Tom Scholz, but he also made some tremendous records with the other six-stringer in that band: Barry Goudreau. Not only did Delp add lead and background vocal work on both Goudreau's 1980 solo album and his Orion the Hunter project, but they also combined forces in RTZ (Return to Zero), a band that made one full-length in 1991. That album's power ballad, "Until Your Love Comes Back Around," should have been a #1 single.
Best songs: "Until Your Love Comes Back Around," "Peace of Mind," "Something About You," "Don't Look Back," "Dreams"
SEE ALSO: Best Female AOR Singers
Steve Perry (Solo, Journey)
If this list would have been compiled as a Top 10 list, Steve Perry would have been the king of the mountain. He's the gold standard when it comes to melodic rock singing. These days, the preeminent label for this kind of music is Italy's Frontiers Records, and all you have to do is take a look at their roster to see how deep Perry's influence has been on the genre. Hard rock, soulful ballads, synth-driven pop rock, and hook-crazy AOR... the man can do it all. Perry's replacements in Journey have all been impressive over the years, but they've never truly replaced his greatness in the band.
Best songs: "Stone in Love," "Oh Sherrie," "Who's Crying Now," "I'll be Alright Without You," "Foolish Heart"