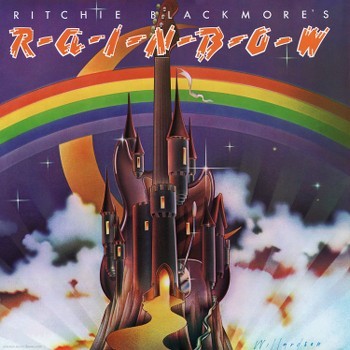 I was very fortunate as a child to have a father who had begun collecting albums before I was even brought into this world. I was able to flip through hundreds of albums and listen to all kinds of bands I knew nothing about, but their cover art intrigued me as a young kid. One thing that was definitely lacking in my father's collection was anything remotely heavy.
Sure, I could listen to every album imaginable by the Beatles and Beach Boys, but nary a Black Sabbath or Led Zeppelin album could be found. I had to rely on my friends for my introduction to heavy metal. Whether we were playing football in the street or listening to WYSP poolside in the summertime, it was people I was surrounded by that showed me the way to the Dark Side.
However, one moment sticks in my head vividly when it comes to my first album. My father had been studying very hard for an upcoming test related to his field of employment, which meant he wasn't spending time with his sons. Looking back, it had very little effect on my brother and me, but my father made a very kind gesture (or maybe a bribe) and purchased my brother and me a record of our own. My brother's escapes me at the moment, but mine was Ritchie Blackmore's Rainbow.
I still possess that original copy in my collection. The album not only holds a special place because of that event happening, but also because Rainbow and Ronnie James Dio would become something constant throughout my life. In fact, my first true heavy metal concert was Dio when he performed at The Spectrum in Philadelphia on my 12th birthday. It was later released on VHS and I watched it endlessly, studying everything hoping to catch a glimpse of myself in the crowd shots. Later in my life, I found myself as a singer for an up and coming deathcore band. It wasn't until then that I realized what kind of effect watching RJD all those years ago had on me. I had learned what an effective frontman was supposed to do on stage. Despite being made fun of for my stage moves and hand gestures, I knew that while being on stage there was a way to connect with fans besides using just my voice. RJD had taught me so much when I was a kid that I didn't get to apply to my own life until nearly 20 years later.