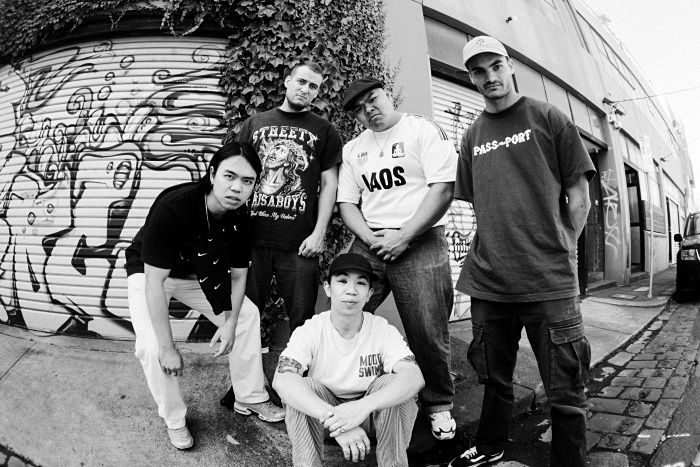 SPEED has been on No Echo's radar since earlier this year, and the band is even featured on the site's Australian Hardcore Mix on Spotify. They've been getting more attention as of late thanks to their new partnership with Flatspot Records in the States, a New York-based label that also counts such hardcore outfits as Typecaste, End It, and Section H8 on their expanding roster.
With SPEED's new 2020 Flex 2-track release, No Echo chatted with vocalist Jem to get the lowdown on the band, the Australian hardcore community, and the causes that are important to them.
First off, since we haven't covered SPEED on No Echo yet, how did you guys come together?
SPEED comprises of longtime friends from Sydney, formed out of a love for hardcore and friendship. It was on our life bucket list for my brother Aaron (bass) and I to do a band together and the rest of us have been playing in other bands for a while now. Shows in Australia took a bit of a dip for the past few years so Speed is the way we felt we could best contribute to a scene we love so much.
From doing my research on the band, the lyrical and social point of view is very important with all-things SPEED. In other words, you guys aren't writing songs based in fantasy. I'm sure the band members being predominately Southeast Asian and growing up in Australia has informed your views on things as they relate to politics, etc. Talk to me a bit about that.
Personally speaking, I come from a totally supportive family which isn't always the case in Asian culture. As 5 hetero males, we've come to realise the privileges we have in affording almost any opportunity life has to offer, which isn't the reality for most.
I think paying this forward—empowering those who aren't born into the same prerogative—is a true acknowledgement not only of gratitude, but a desire for social progress.
What is Forge Ahead Podcast and what was the catalyst behind starting it?
Forge Ahead is a podcast that celebrates the past, present and future of Australian hardcore. It was born out of the absence of shows (with COVID-19 and lockdown) and was our answer to the question of how we could best keep the wheels turning in these uncertain times. Josh (guitar) and myself wanted to start a platform that recognises every individual's experience in hardcore.
Where SPEED is the action towards building our ideal hardcore culture, Forge Ahead is a way for us to discuss and put those perspectives into words. It's been an awesome way to stay connected and discuss a whole range of ideals that may not normally be brought up.
Speaking as an American, I have to admit that I've often slept on Australian hardcore throughout the years. But with more recent bands like No Brainer, World View, and The Chain, I know that more people outside of Australia need to start paying attention.
What are your thoughts on the hardcore scene over there at the moment?
All those bands you listed rock hard. But honestly, it's hard to pin point one style that represents the "Australian hardcore sound". Our country is so multicultural, geographically our cities are so distant and the product of that is a scene that represents many different styles. I think that's the essence of what makes our scene unique: diversity.
Hardcore was insanely massive here 10-15 years ago—annual festivals would sell out 1500 cap rooms with heaps of bands and tours happening every week. The last 5 years saw a real dip, bands broke up, people moved on, and the ones who really cared stayed.
Huge shout to all who've been keeping shit moving in this time. I think most of us share a similar mentality to savour what we have and create a sense of unity so this scene can not only grow back, but thrive. And to be honest, it's happening—it's coming back now stronger with a culture that's more inclusive and passionate than ever. We're all locked down but you can definitely feel this strange buzz that's permeating throughout the scene, itching to get back to shows and keep rebuilding from where we left off.
I've never felt more proud to claim Australian hardcore!
What's next for SPEED now that these two tracks are coming out?
Keep writing. Keep talking and keep keeping engaged with the people around us. Whenever shows happen we're gonna run this shit hard. Thank you to all who've resonated with what we're doing. Much love!
***
The limited edition flexi 7 inch of 2020 Flex will be released by Flatspot Records (US) and Last Ride Records (Australia). Both labels will be donating all webstore profits from the release to both The Bail Project in the US and Sisters Inside in Australia.
SPEED on social media: Instagram | Twitter
***
Donate a few bucks to help with No Echo's operating costs:
***
Tagged: speed