Listening to Bazookatooth's debut EP, you wouldn't be out of line to picture a bunch of maniacs behind its songwriting. But it turns out the Nashville-based power trio are tax-paying, well-adjusted humans. "[Drummer] David [Meyer] and I worked together for a few years at a coffee shop in Nashville called JJ's, and we shared similar musical interests in music so it came about very naturally," Bazookatooth guitarist/vocalist Audra Vogler tells me. "Our manager threw a show at Two Boots Pizza and invited us to play. We had no music, no vocalist... so of course we agreed!
"My fiancée, Ben [Mueller], is the vocalist for a metalcore band called Owls In the Attic, so we asked him to fill in for this show. We whipped up a 10-minute set in two weeks and played the show. Our bassist unfortunately left the band, then Ben became permanent and took on bass as well. We've been kicking it as a 3-piece and have been playing out extensively in our year and a half of existence."
With frenzied vocals crashing over a barrage of hardcore punk-kissed guitar riffs, Bazookatooth make music for the disenfranchised. Most people think of Nashville as this laid-back, country music-loving town. So how the hell does Bazookatooth fit into that? "On one hand, Nashville's music scene is thriving," opines Audra. "We seem to be experiencing a resurgence of post-punk and hardcore bands locally and it's a privilege to be amongst such talented peers. Operating in a musical town is exciting - there are endless opportunities for bands and listeners, but a lot of politics, competition and ego comes with it. When everyone is trying to make waves it becomes significantly less about the music and more about who you know.
"We've seen a lot of friends become hardened by this environment so we try to be conscious of it and support every part of our musical ecosystem. You shouldn't have to be reminded to support the touring band or stay for all the locals (especially if you're playing), but this is no longer the norm. We try to not get mixed up in the 'fashion' of our scene and just have a good time. We like to play, and we like to support good people. It can be that simple."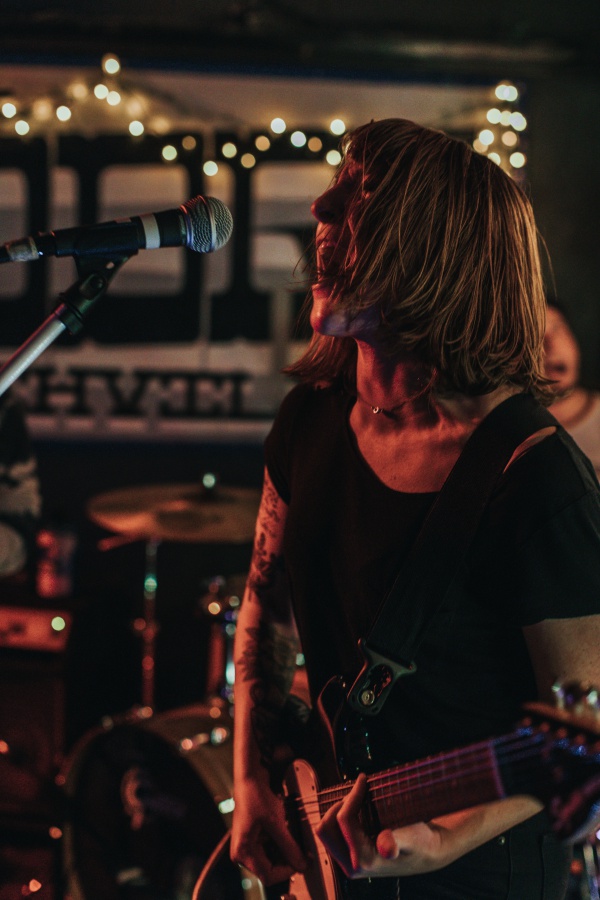 Bazookatooth's eponymous EP comes out today, so I asked Audra for some background on its recording. "David tracked, produced, mixed, and mastered everything in his house, on top of drumming and doing one third of the vocals, so it is truly all thanks to him (and a Tascam PortaStudio) that this record exists. It was his first time doing everything from the ground up and we're so very proud of the outcome. Our friend and coworker, Noah Glass, created the artwork, and our tapes were printed by more friends and coworkers in Worker's Comp Recordings. We've been working on this record for a while now and have been writing a lot more throughout the process. We may have accidentally written another EP in the meantime, so we'll probably have another release in the not-so-distant future."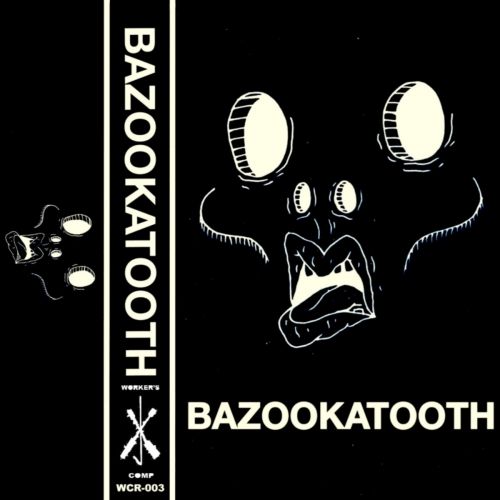 When Audra reached out to me about Bazookatooth, she mentioned Tony Hawk's Pro Skater as an influence. She's not the first musician to bring that up to me. "For me, it means the world. Some friends introduced me to Rancid while I was growing up, but that was the only punk I knew. My eyes were truly opened when I started playing American Wasteland at 11. This soundtrack in particular was incredibly impactful because it had a lot of punk covers by bands that were influenced by punk. Senses Fail's cover of 'Institutionalized' by Suicidal Tendencies and Descendents' 'Suburban Home/I Like Food' mashup by Taking Back Sunday inspired me to pick up a guitar in the first place. That game introduced me to the bands that would go on to shape who I am today." Hey Tony, you did good, brother!
Bazookatooth's EP is out now on all of the streaming sites and you can download it on Bandcamp. Follow the band on Facebook.
Tagged: bazookatooth, new artist focus