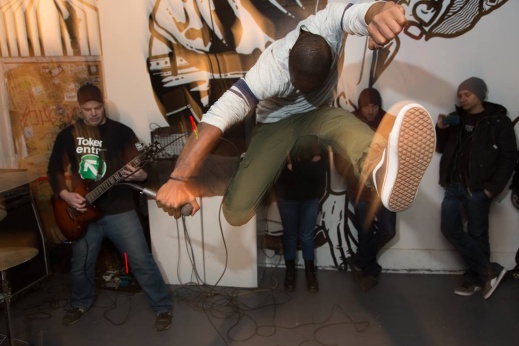 The musicians the make up New Jersey hardcore band Manalive have been in such groups as Kill Your Idols, Ensign, Barricade, and Milhouse. But on "Constant Coverage," Manalive make it clear that their music deserves to stand on its own. Appearing on a white one-sided lathe cut 7" with two songs and a screen printed B-side being released by the Dropping Bombs label, "Constant Coverage" is a sinister-sounding track with chaos waiting around every turn in its arrangement.
Frontman Kwame Korkor does fine work of bringing his menacing vocal lines in the perfect spots, letting Len Carmichael and Brian Meehan's Burn-like guitar parts have space to do their damage. The rhythm section of drummer Chris Ross and bassist Mike Smagula also need to be noted here since their slithery runs lay down a rock-solid bed for the other musicians to work off of.
It's with great pleasure we present the exclusive premiere of "Constant Coverage" to you:
Head to Manalive's Facebook page for more info on the band, and hit this link if you want in on the limited edition pressing of this gem.
Tagged: ensign, hardcore, kill your idols, manalive, milhouse