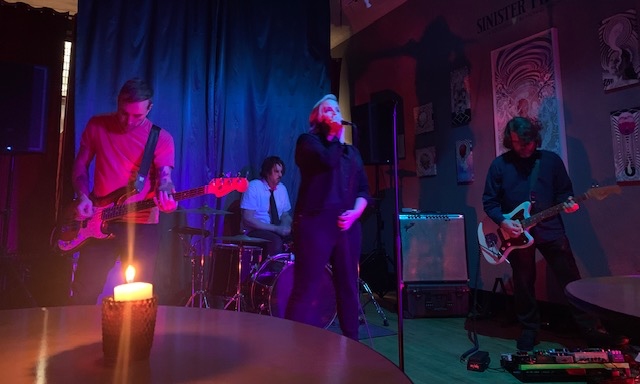 Meaghan Ball and Joe Lucca from Copper have recently started a new band call Last Night Songs.
Despite their old band's sound, don't expect a '90s emo throwback. While there is still plenty of melancholy and melody to be had, Last Night Songs bring more of a shoegaze, noisy edge to what they're doing.
It's great to see them back together creating more music and they have a few songs streaming now. Keep an eye out as they plan to release more music in the near future.
I recently spoke with Joe about the new band and their plans.
First off who is in the band and what do they do?
Joe Lucca: Meaghan - vocals, tambourine, shakers; Justin Rowland - drums; Patrick Lavin - bass; I handle guitars, synths, samples, and treatments.
Meaghan and I write all of the songs and then bring them to the band.
I think Last Night Songs is a pretty cool and interesting name. What's the story behind it?
Thank you! It comes from the Beatles Get Back film. There's a scene when john arrives to the studio and asks about a song that george was showing Paul and Ringo ("For You Blue"). Paul replies with, "this is his last night's song." That phrase struck a chord with me and I switched it up a bit.
How would you describe your sound to anyone that would ask?
I'd say we're a bit fuzzy at times, a bit jangly at other times, shoegazy, melodic.
What are some current bands you'd like to jump in a show with?
Cindy, Automatic, Sweeping Promises, Bnny, Anika... So many out there. We are open to playing anytime and love to play with all sorts of genres.
You and Meaghan were in Copper back in the '90s. What brought you back together for this band?
We all sort of went our separate ways after Copper, but I always dreamt of making more music with Meaghan.
We reconnected leading up to a couple of Copper reunion shows and kept in touch afterwards. As fate would have it, she moved back to Buffalo from Los Angeles and Tim moved back from Philadelphia. It wasn't even up for debate, we were forming a new band.
Tim ended up having to move back to Philadelphia, and that's when we recruited Justin on drums and Pat on bass.
I know shortly after Cooper broke up Meaghan was in Idle Hands? Did you do any bands after that? I don't recall ever hearing of any?
I played guitar in a band called Saturn Battery towards the end of Copper and a little while after. A few other bands here and there that didn't do much of anything. Between then and Last Night Songs, I've been tinkering away in my home studio with electronic music and guitar stuff.
What are your plans for a Last Night Songs full-length record?
We recorded 15 songs a couple months back. We're working on mixing them and sort of releasing double a sides in the digital realm every week or two until they're all out there. At that point, the album will be out there with its sequenced track listing and hopefully someone will be interested in a physical release.
I'm fantasizing about kind of a Hatful of Hollow compilation type of physical release. These 15 and a few others. We decided to do this pair of songs at a time just to get material out there.
Speaking of the Smiths, who is a better solo artist, Morrissey or Johnny Marr?
That is a tough question. Up to a certain time period, I would have to go with Morrissey, but as of late it's definitely Johnny.
Rest in peace, Andy.
Anything to add?
Check out our music on Bandcamp, Spotify, or Apple Music, and live around town this summer.
***
Upcoming Last Night Songs shows:
7/22 - Buffalo, NY @ Revolution Gallery
7/23 - Buffalo, NY @ Rec Room
Tagged: copper, last night songs