Jonah Falco (Career Suicide, Fucked Up) referred to Gutter Knife as the "NOW Wave of British hardcore" on the group's Bandcamp page, and it's a perfect way to present the guys. Featuring musicians who have played in such bands as Desire, Vile Spirit, and Salt Wound, Gutter Knife make the kind of music that would serve fittingly as the soundtrack to a bar fight. "We started practicing at the end of 2016, and played our first show on the 16th of December at the state funeral 'Tory party prison' release show," singer Luke Austin tells me.
Gutter Knife just released its debut album, Boots on the Ground, a few weeks back via Quality Control HQ, the white-hot label that has also been behind crucial releases by the likes of Violent Reaction, Mere Mortal, and Existence.
I love the sound of the record since it's both abrasive as all hell yet catchy at the same time. "Our mate Seb Gilmore did the recording and mixing for us," Luke says. "He does a lot of other types of music with Public Pool Recordings. The rest we did at our drummer Ted's house with vocals and guitars.
"We were influenced for the recordings by bands like 86 Mentality, the Mongrel Crew bands, early NYHC, Boston bands of the '80s, and most importantly, Oi!"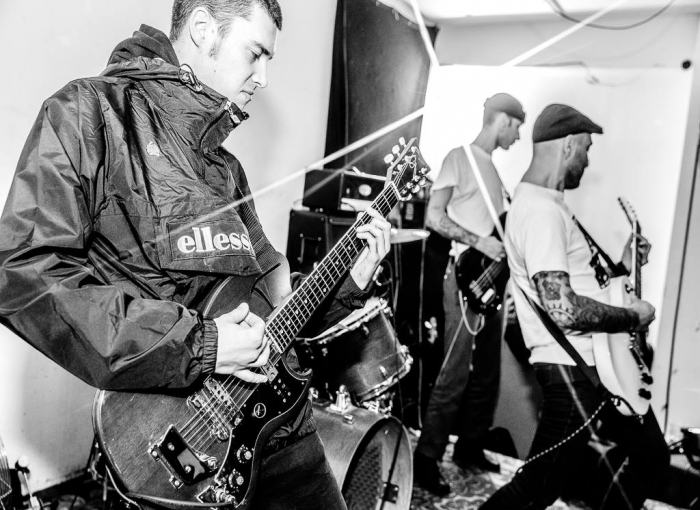 Luke and his Gutter Knife bandmates call the English seaside town of Brighton home. "Brighton is different to the UK. It's got history and is the bank holiday resort of the country. I think growing up in a place like Brighton has influenced my outlook on life, but a lot of the influence has also come from the music I listen to, most importantly."
Speaking of the UK, I ask Luke what other bands we should all be checking out right now. "Desire, the Stance, Royal Hounds, Boss, Power Plant, Last Affront, and Chubby and the Gang."
Boots on the Ground is out now and available on vinyl from Quality Control HQ and Bandcamp for digital.
***
If you're shopping for vinyl, CD, and cassette hardcore titles, head to No Echo's partner store, Reverb LP, to see what they have available. Every purchase you make helps No Echo with site costs.
Tagged: gutter knife