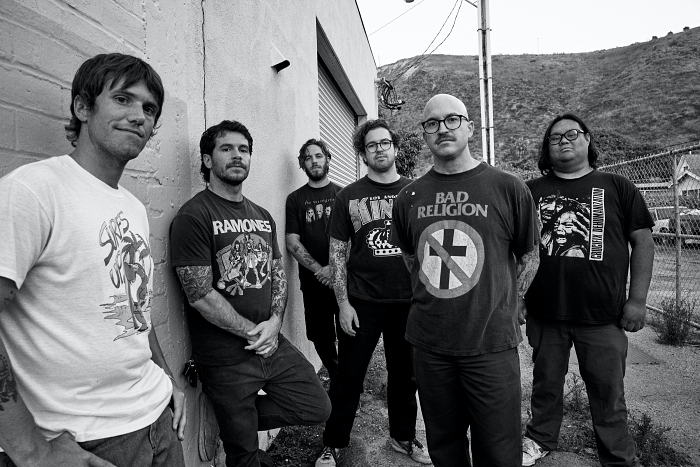 Meet Cosmic Joke, a band from the Los Angeles area that I'm a big fan of.
Though they certainly have the propulsion and spirit of hardcore woven into their songwriting, the group's sound is teeming with classic punk-informed melodic hooks. How about Revelation Records meets Stiff Records? I like that.
After playing shows in support of their 2021 demos (including an appearence at Tied Down fest in Detroit earlier this year), Cosmic Joke recently announced they'll be releasing their debut LP via a new joint partership between HardLore Records and Triple B Records.
It marks the first release for HardLore, which is the podcast hosted by Bo Lueders (Harms Way) and Colin Young (God's Hate, Twitching Tongues).
Since Cosmic Joke vocalist Mac Miller works in the touring world, he's frequently out on the road. With that in mind, I sent him some questions about Cosmic Joke, their stylistic approach, and their forthcoming LP.
How did Cosmic Joke form and did you have a pretty good idea of what you wanted to do stylistically from the very beginning, or did that come after you started playing together?
Morgan, Vince, and I wanted to start a band that took heavy influence from '80s Los Angeles/Orange County hardcore (Bad Religion, Adolescents, Circle Jerks, Descendents) as we felt it was under represented in today's scene. Morgan and I played in skate punk bands in the past so naturally a more modern/melodic influence (Pennywise, The Offspring) from the same region crept in.
The three of us started writing pieces of the demo around 2017 and never got around to finishing it. During the pandemic we figured it was a good time to wrap it up so we had Niki and Jake who we'd played in bands with previously hop in too.
Though I really dug your demo from the first time I heard it around the time your dropped it on Bandcamp, I truly "got the band" after seeing you live at the Praise show at Genghis Cohen earlier this year. The set at Tied Down cemented my feelings.
I remember describing Cosmic Joke to a friend by saying something along the lines of "they're hardcore but more rock-sounding than mosh, like hooks and all that but definitely not emo or pop-punk."
We do consider ourselves a hardcore band, but in the same way I'd consider Bad Religion or early NOFX hardcore bands. We want our songs to be aggressive but aren't concerned with being hard, which I think is an important distinction. I think there is a fine line to walk with melody as well as tougher parts.
Now that you've been playing more shows, what has the reaction been like? You recently played the God's Hate/Alpha & Omega show here in the San Fernando Valley. I missed that one, but you definitely stood out on that flyer!
It's been really cool. I feel like there aren't a ton of shows that are a 'perfect fit' for us so it's fun to get up there, do our thing, and try to win people over.
Let's talk about the album. First off, tell me a bit about your connection to the HardLore guys. This will be their label's debut release via a partnership with Triple B.
Colin and Taylor Young are local friends of ours. Taylor recorded the new material and they were pushing Triple B to release it. After getting the final mixes, Colin was wanting to put it out himself, so they decided a co-release is in order. Really grateful to have the opportunity to get the record to so many people.
READ MORE: 5 Killer Descendents Cover Songs
You sent me a link to the album a while back and I've been playing it a lot. While it's got hardcore teeth, there's also an almost classic new wave/punk feel to it throughout. I think it serves the melodies really well.
The album is more of a compilation of sorts, 4 new songs recorded at the Pit by Taylor Young paired with our remastered demo that was never physically released.
We love hardcore and punk in almost all forms and a lot of '80s post-punk and new wave influence definitely sneaks in too.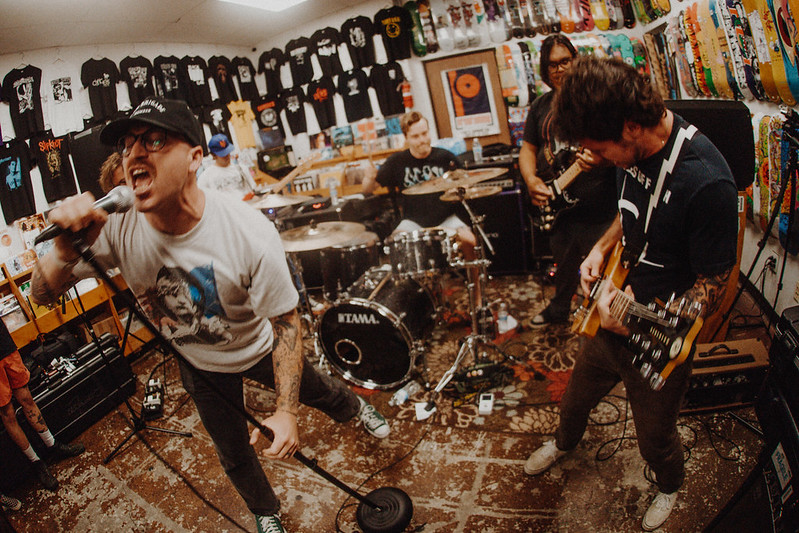 Of all the tracks on the album, I think "Tempered Expectations" and "Howard Beale" best encapsulate the spirit of what I love about Cosmic Joke: the classic-sounding hardcore vibes mixed with the anthemic, big melodies powering through everything.
"Howard Beale" was our take on a Uniform Choice type track. The lyrics were directly influenced by the movie Network which I'd seen for the first time not long before the pandemic and just completely blew my mind.
"Tempered Expectations" we were going for a bit of a Marked Men by-way-of Buzzcocks type of feel- it was really fun to truly just make a harder pop punk song.
Where did you mine inspiration from for the lyrics on the album? Are you a big reader? Is it more personal than political for in the lyric department?
I am admittedly not much of a reader, but I do love storytelling and often take more inspiration from movies. Generally, I write from personal experiences—it will occasionally coincide with more political leanings, but primarily I write from a more emotionally charged place.
What's the plan for Cosmic Joke once the album comes out? I know you're already a road warrior through your job, but is the band committed to getting out there a ton in the next year or so?
It is very unlikely we'll be hitting the road for any lengthy amount of time as I tour year round for work and two of our members are in other, much busier bands. But we are definitely looking to travel and do some shorter regional touring.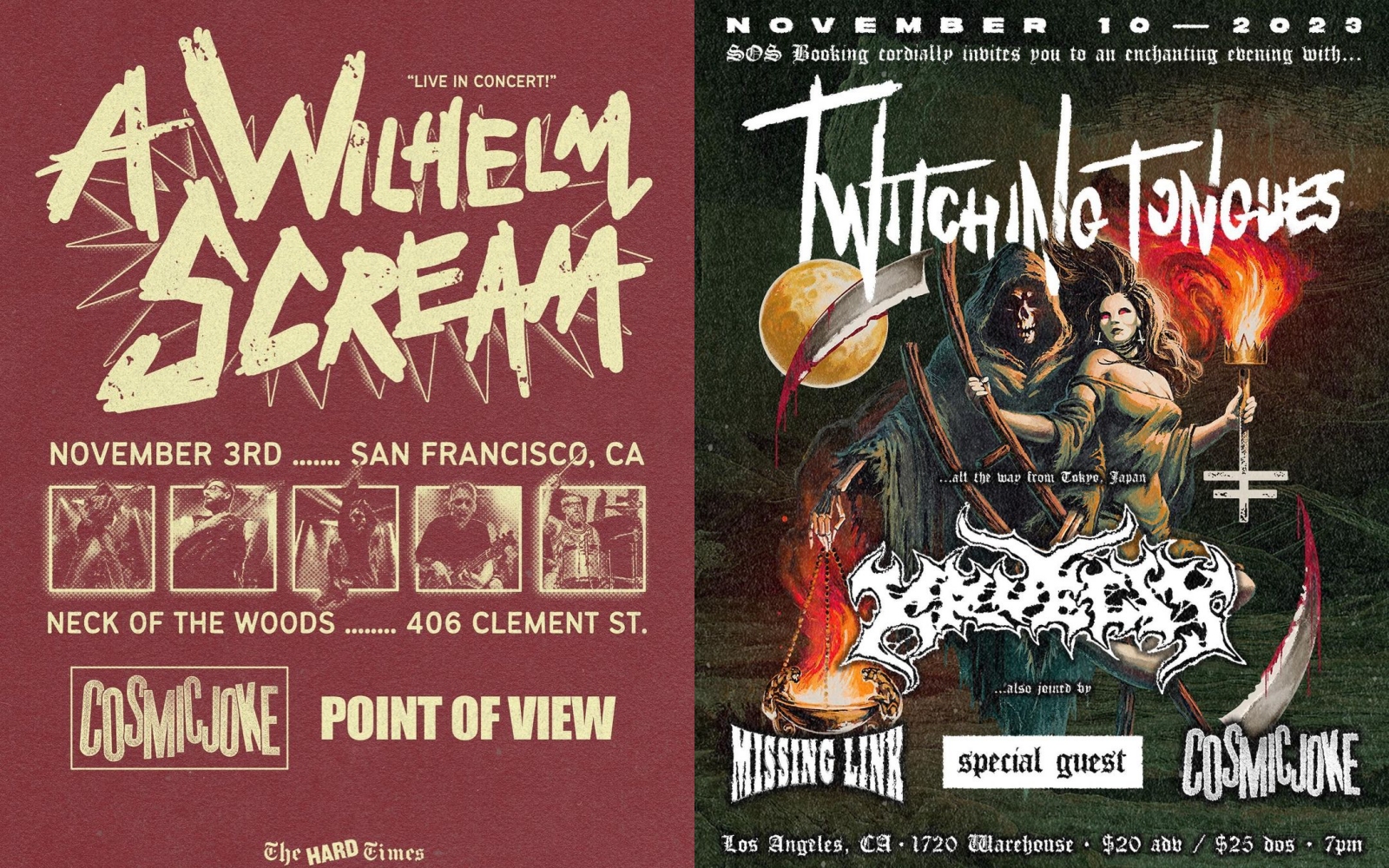 What are some of the other bands Cosmic Joke feels a kinship with here in LA or elsewhere?
'Bands-to-check-out-as-if-this-were-our-album-thank-you's-in-2003-and-this-mattered-to-people':
God's Hate
Entry
Militarie Gun
The Runts
Human Garbage
Absinthe Father
Lurk
Initiate
Pile of Love
The Shaking Hands
Hunny
Bad Suns
The Neighbourhood
Drug Church
Spiritual Cramp
Phony
Restraining Order
Dead Heat.
***
The Cosmic Joke LP will be out later this year via HardLore Records/Triple B Records.
***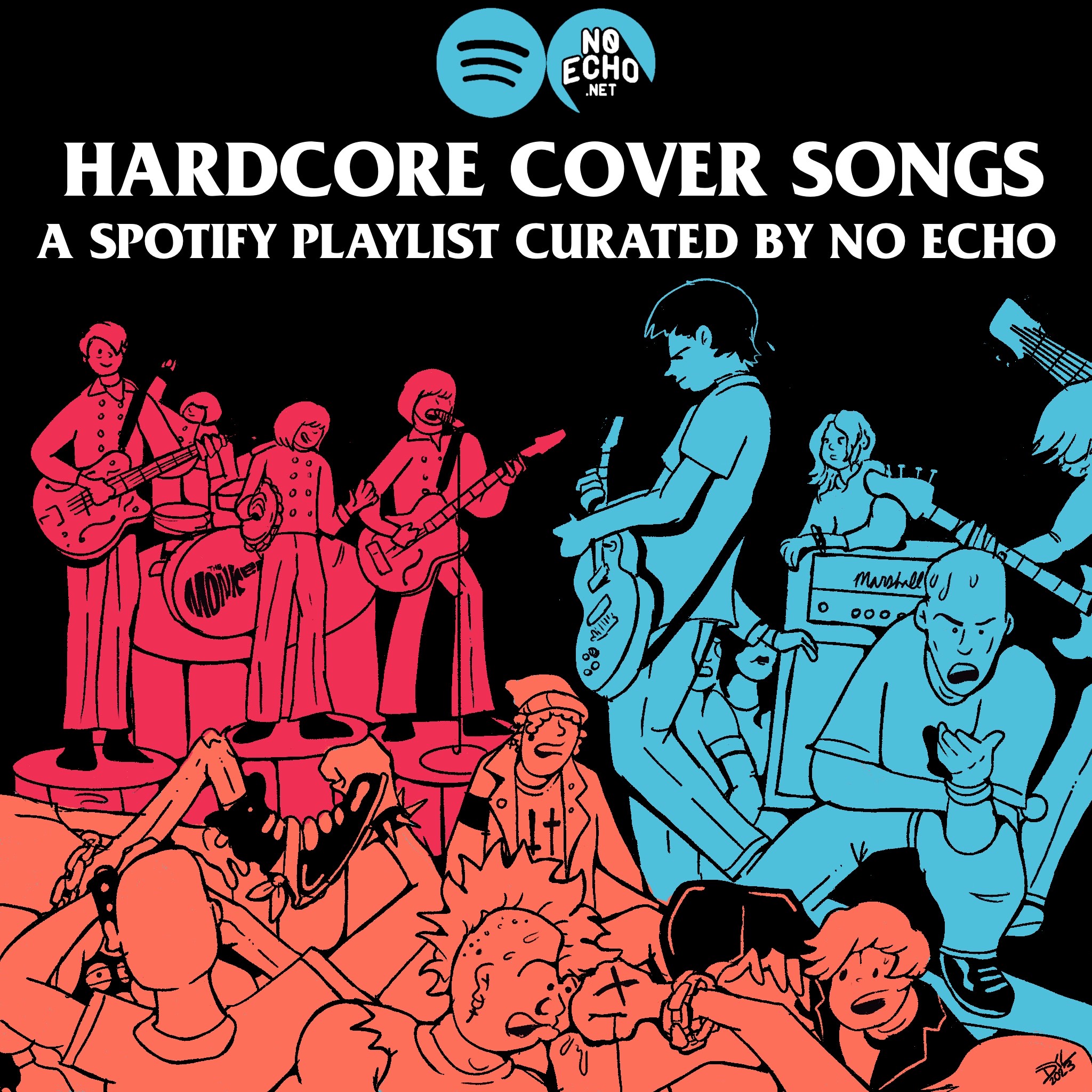 Tagged: cosmic joke