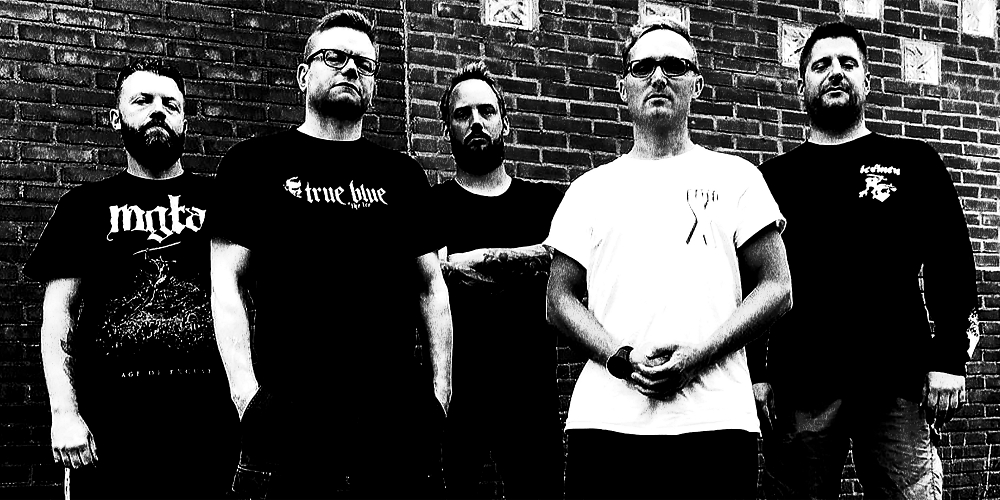 If you're like me and love the sound of melodic vocals piercing through metallic hardcore, allow me to introduce you to Bloodsucker. The way I like to describe the Dutch band is to imagine a blend of Born to Expire-era Leeway and Best Wishes-era Cro-Mags.
Not surprisingly, guitarist Rudie cites the latter while telling me Bloodsucker's formation story: "A few years ago, in a small town bar somewhere in the Fryslân region, I was watching a Cro-Mags cover set with Dietrik (our current singer) on vocals. I had never seen Cro-Mags' 'See the Signs' performed live by any band before. It was insanely good and from that moment I knew I wanted to do a band with him one day.
"A few years later, my good friend Gerard (drums), with whom I shared a few bands, asked me if wanted to join him for a new project. I found out later that he'd also asked Dietrik to sing. So I was stoked. Gerard was already jamming together with Jelle (bass) for a few practice sessions, and a while later, I asked my other good friend, Niels (with whom I was in Cornered at that time), if he wanted to fill in on second guitar. I always knew he was a very awesome guitar player and has always been the only choice for that position, at least in my eyes."
Based in the Fryslân region, and formerly known as Vexation, Bloodsucker issued a self-titled EP in late 2021:
Rudie gets into Bloodsucker's shared influences a bit more: "When Gerard asked me for the new band, we were considering a Minor Threat/SSD direction. At least somewhat more punk influenced. But when we got together for the first practice session, I asked Dietrik what he wanted the band to sound like, and he simply answered: 'Cro-Mags!' To be honest, I couldn't have been happier. We took it from there.
"But if you ask me, that's just what the influence is, a mix between NYHC and '80s crossover. It's kind of like a homage to a lot of the bands from that spectrum. My personal favorite influences I think we got going on in Bloodsucker are Killing Time, Cro-Mags, and definitely, Leeway."
Bloodsucker drummer Gerard says the following about the hardcore community in the band's region: "What currently is known as a scene in Friesland is hard to say. There's been no real shows for two years due to the zombie apocalypse.
"Some bands started and some are still around after a lot of years, but also a lot of bands quit. Notable bands from our area include Cornered, Swim or Drown, Tempest, and Deadspeak, but there will always be a lot of love for hard underground music in this region."
As far as their future, Bloodsucker will be recording new material with JB van der Wall (Aborted, Dool) soon, as well as getting back to playing shows.
Bloodsucker on social media: Facebook | Instagram | Bandcamp
***
Help Support What No Echo Does via Patreon:
***
Tagged: bloodsucker