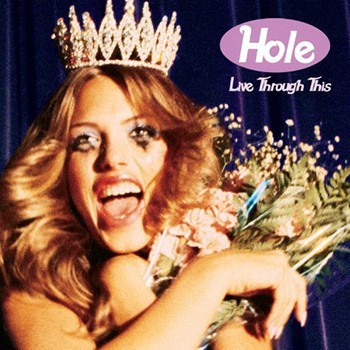 There are so many great albums! I would say that it's a toss up between New York Dolls, The Velvet Underground and Nico, and Hole's Live Through This.
Live Through This was probably the album I played more than any other. It was my anthem. The creed to live by. I went to Catholic school, but skipped many times to see Hole when they came to Minneapolis. Oops. Better go to confession now... ha! The first time I heard Live Through This, I thought, "Whoa, what was that? Who is that? She's singing about everything I'm going through at this very moment." I totally related.
I was heavy into the Riot Grrrl movement. I liked a lot of female-fronted bands, but Hole was by far the most influential. I'd see them in concert and was in awe of how commanding Courtney Love was. At the time, she was getting a lot of shit, but regardless, she stood her ground and held her own. I loved her vocals. That comes from deep inside. There's no Auto-Tune on that. She's hardly the best guitar player, she's the first to admit, but when I saw her play at First Avenue among many other venues, I thought, "Wow. This is where it's at."
The best tracks never made radio. "Credit in the Straight World" is so well written. The bass line is contagious. Her snarl through the track hits your guts like a ton of bricks. "Rock Star" is a dirty anthem. "Do it for the kids!"
"Asking for It" starts off with a pretty melodic verse and chorus before it builds to the heavy, "Every time I stare into the sun. Be a model or just look like one," then back again softer to the last verse.
"Doll Parts" has that C major 7 chord that blends with the haunting lyrics, "Someday you will ache like I ache..." I love the doll references she uses. All little girls grow up playing with dolls. I played with Barbies up until I was 13! I guess I was a total weirdo. I would get lost in the drama of the storylines I'd make up in my head. Who was wearing what, who was going to college, who was getting married, who was sleeping with who, etc., etc.
But I digress.
"Softer, Softest" is a beautiful track with the backing vocals and harmonies. Halfway through the track it builds up to, "Pee girl gets the belt," before coming back down. "Gutless" is driven by the drums. It's hard and fast, "You can try to suck me dry, but there's nothing left to suck. Just you try to hold me down. Come on, try to shut me up."
I listen to the album today and it still has the same visceral feeling it did back when I first heard it. I'll bet lots of girls go see her shows and feel the same way I did. Guys, too. Her fans are all over the map. I think if you've ever felt like an outsider, a weirdo, ugly, pissed off, or misunderstood, you'll eventually find this album. It holds up. Barbie likes it, too. ;)