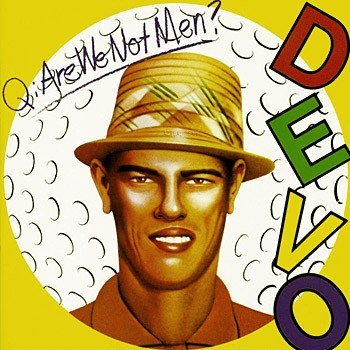 In some ways, I've been into Devo for as long as I can remember. I remember seeing them on MTV and in pop magazines as a child. Their songs even turned up in films I was watching, like Thrashin' and Doctor Detroit. They seemed like such funny characters, like something straight out of the comic books I was consuming. Super hero uniforms with a somewhat militant sci-fi streak, and mysterious red helmets. Energy domes, what was that all about? Oh, how I wanted one. I heard they built their own instruments. Those strange sounds, were they synthezisers? Guitars? Robots? I had no idea, but it sounded insanely catchy, while also being atonal and ugly, music unlike anything else I'd heard. This was pre-internet, in grim and frostbitten Norway, and their colorful mystique kept growing on me.
When puberty struck, I was a full-blown metal kid, gradually surrendering to various phases of indie rock, synth-pop, and hardcore punk. I was the only music "cop" around, giving myself a hard time if something wasn't angry enough, or if it was too "commercial sounding"—even though no one but me and maybe four other dudes (Hi, Kenneth, Vebjørn, Ragnar, Jørn!) cared about what my record collection consisted of. Devo survived each and every one of my genre fads. I kept the albums I had, and got more. Devo weren't in their most successful mode by that time (the early '90s). This was lost on me. The chronology of their "best" albums, and all that. I found something cool in all of them. It was a great time to hit the bargain bins, scavenging for anything Devo-related.
The one record I mainly kept coming back to was Q: Are We Not Men? A: We Are Devo!, their Brian Eno-produced 1978 debut. It was loaded with that jittery, nervous—and above all—smart vibe that I absolutely adored (and still do). It was a great soundtrack for parties, for skateboarding, for pranks, for doing creative stuff... and underneath it all, it was an album with a conscience—a social criticism that grew on me as I grew older. The whole terrible idea of de-evolution had a huge appeal, and looking around me at the small town (Hi, Tingvoll!) I lived in, it seemed like a pretty plausible scenario. The scenery was nice, but it was littered with terrible humans up to no good; each night out seemed to end in a fight, a primitive mating ritual, or a combination of both.
Throughout the years I kept digging for Devo-related articles, records, and books. We traded really shitty VHS-copies of The Complete Truth About De-Evolution, and had full-blown Devo parties. I think we even had a Devo cover band at one time, strangely enough calling ourselves "The Seek Leetle Monkeys," after a Ren & Stimpy sequence. My band, This Sect, occasionally covers "Whip It," but we never seem to get it robotic enough. Damn our humanoid bodies.
Eventually I even got to see Devo live, twice, with my best bud (Hi, Vebjørn!) in Dublin (2007) and in London (2009). Got myself a shiny energy dome and had it signed by the band, like a real fanboy. At the London gig they actually played Q: Are We Not Men? A: We Are Devo! in its entirety! Met the band both times, and they were as funny and patient as I'd hoped they'd be. I was saddened by the death of original drummer Alan Myers, but what really choked me up was the death of Bob Casale. I'm just grateful I got to meet one of my heroes.
In many ways, Devo—and especially Q: Are We Not Men? A: We Are Devo!—has worked as a catalyst for me, feeding creative vibes. To me it's simply good time music that I never tire of, even though the subcontext of it all is pretty bleak and hopeless. It sounds exciting, inspirational, and progressive. No negative associations whatsover. Devo makes me wanna get up and do stuff. Audio caffeine with an IQ-heightener. Their message works on so many levels. Stickin' it to the man in weird ways can be fun. Why go for the straight up rebellion course, where everyone can spot your true intentions immediately? Subversion works so much better in the long run. Devo is the proof of that.